Beating Rapid Roulette Touchbet Terminals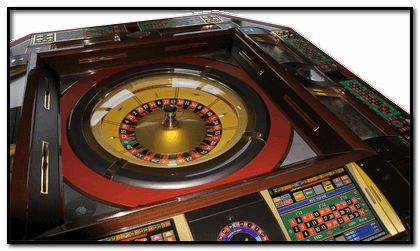 Rapid roulette is just like ordinary roulette, except you have your own private betting terminal. This means there are no real casino chips, and you don't need to lean over anyone to bet. This is obviously more comfortable for the players. It also benefits the casino because they can have more people betting at the same time. In a casino environment, floor space is directly proportional to money to the casino operators.
How To Start Playing Rapid Roulette
first you pay your money to the croupier, which can be either in cash or casino chips. Then sit down at one of the terminals, and your betting credits will appear on your screen, just as they do with online roulette.
How To Place Bets
using your finger, tap on the cheap value you wish to use. Your selected value will be highlighted on the screen. Then to actually place bets, tap your finger on the virtual betting table that is displayed on your screen. You will see the actual chips appear where you have touched. You can tap multiple times in the same place and see the total value of your bet.
Every display has its own countdown timer that shows you when no more bets will be called. In some parts of the world, you can still bet after the ball has been released. However, there is usually an automated mechanism that calls no more bets on the betting terminals when the ball has passed the specific speed. In other parts of the world, the rapid roulette terminals do not allow you to bet after the ball is released.
Getting Payouts
To take your winnings and leave the terminal, just tap the cash out button. It is slightly different on different terminals, but usually they are quite user-friendly and easy to understand. Even if you get stuck, there is almost always staff to assist you. After all, the casinos want to assist you in using their software and equipment.
Once you have requested a payout, the croupier or their assistant will pass you either a docket, or casino chips to the value of your winnings.
Player Tracking
Many rapid roulette terminals have card slots were you enter your membership card. This will track your hitting history, which is used for many purposes for both you and the casino. If you use this service, generally you can expect the casino to know if you are consistent winner. For this reason, it is not advised to use membership cards if you are a professional roulette player. However, it is a good idea to use them when playing other casino games.
For example, let's say you are a professional rapid roulette player. First you will spins in time scouting the wheels, then analysing them. You will play your game and take your profits. While you are playing rapid roulette, you do not use your membership card. But after taking your winnings from roulette, go and play the slot machines some time, and use your membership card. Then perhaps play blackjack for a while, again using your membership card. So in their systems, the casinos will see you as a diversified player who does not stick exclusively to one casino game. This means that next time you attend the casino, your activity will appear more normal. This is particularly important if you are required to present photo ID, all your membership card, prior to entry. Of course the ideal situation is no photo ID is required to enter the casino. This kind of requirement is rare, and roughly 5% of casinos require it.
Why Play Rapid Roulette?
Frequent Spins
If you are a professional player, the more spins you play, the more you will win. Also a greater number of spins means you are able to analyse more spins in less time. Similarly, the more spins that are conducted on rapid roulette, the more money the casino usually wins. It's just in this case, a professional player will win in the long-term rather than lose. Simply put, rapid roulette are generally preferred amongst professional players because you don't need to wait as long between spins.
As any player knows, if you play at night time on a Friday or Saturday night, the roulette tables can become extremely busy. Often you may wait several minutes between each spin. This is frustrating for the player, and bad for the casino because games aren't being played as often as they should. Most importantly to a professional player, or any player with a valid strategy, and in frequently spinning wheel makes any strategy painful and impractical.
Easier Conditions
If you are a professional player, you would be aware what roulette wheel conditions make roulette easier to beat. And generally speaking, rapid roulette wheels have more favourable conditions. This is not always the case, but it is most of the time. But even if the wheel itself is more difficult to beat with respect to the accuracy of your predictions, the higher frequency of spins alone makes the wheel overall more practical to play. This translates to easier conditions, even on wheel designs that are particularly difficult to win on.
For a roulette system that is perfect for rapid roulette, visit genuinewinner.com
To get the best free roulette systems that really work, see the top 5 proven roulette systems and the video series below. It's the best 100% free information for winning roulette you'll find. It's written by professionals who are really earning a living from roulette.